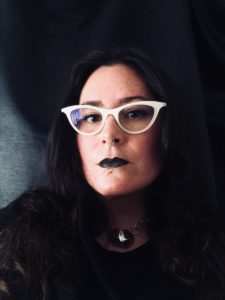 MDW Jewelry was founded in 2017 by Meghan Weeks.  After completing her formal training in fine art photography, Meghan began an apprenticeship as a cabinet maker, which satisfied her need to keep her hands busy, and led her down a path of material exploration. Her love of materials quickly became a part of her art practice.
In 2016 she fell in love with silver and copper which began her journey into the world of jewelry making.  As an artist of Cree and English descent, Meghan calls upon her cultural identity to explore ideas of the sacred – light and dark. Using the gifts from mother nature, she takes semi-precious stones and natural raw crystals sourced from around the world, to create one of a kind, limited edition wearable sculptures.
A few pieces have been created to reflect Meghan's Cree heritage. These works honor her Aunt Darlene who plays a prominent role in passing down the teachings of sacred medicines and stories to First Nations youth and communities. These teachings are specifically from the Cree people of Northern Alberta, Canada, and MDW Jewelry is delighted to have collaborated with Darlene to educate as well as adorn people from all over the world.
Respectfully, every piece that has been constructed, is handcrafted with positivity, excitement and with the utmost attention to detail. The wearer can adorn themselves with an heirloom piece and wear it with pride and love as when it was created.
Thank-you
I would like to thank the following people for their kindness and help throughout this whole process. In no particular order, my Aunty Darlene for kindly sharing her teachings, Geoffrey Wallang for assisting me with photos, beautiful Qiyama Li for being my amazing model, Russell Gordon for helping me put this website together and last but not least, my editor Gaye Fowler. Without you all this wouldn't have been possible and I am extremely grateful.
To all the people that have supported MDW Jewelry, I thank-you and hope you love your pieces as much as I do.