This information was taken from Indigenous Corporate Training Inc.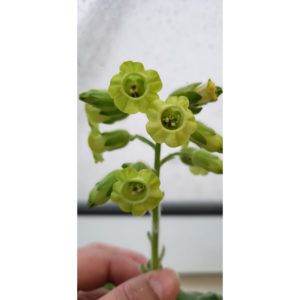 "Nicotiana rustica, the variety of the plant that could be grown in non-temperate climates, was relatively easy to grow and was likely the earliest form of agriculture in North America – long before food crops such as corn, beans and squash were grown. It was grown prolifically by members of the Huron Nation who produced more than they could use so traded with northern Nations for furs. When the Hurons, and other Nations, were forced from their traditional lands and their traditional lifestyle dramatically interrupted by the Europeans, they lost control of their fields of nicotiana rustica. European traders in the 18th century were most willing to trade the southern grown, commercial grade nicotiana tabacum for furs and other goods thereby introducing an addictive element to the Nations with whom they traded. As more and more Aboriginal Peoples were forced onto reserves and to abandon their traditional lifestyles, the cultivation and consumption of nicotiana rustica diminished. If Nations were able to continue to grow it, the Indian Act of 1895, snuffed out their ability to sell it by decreeing it illegal for Aboriginal Peoples to sell products from their farms. The government-driven assault on ceremonies and traditions such as growing tobacco was an attempt to undermine and destroy the social fabric of the First Peoples of Canada. What it accomplished was to drive it and its ceremonial use underground and cement it as a symbol of cultural resistance, along with all the other ceremonies that were prohibited."
Picture is from the artist when she first started growing Nicotiana Rustica.